Sloan @ Yorkfest, 09/13/00
september 13th 2000 - enjoy!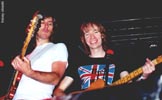 all pictures taken 9.13.00 at york university in toronto, canada by tracey o. thanks to david for building this site for me. any questions, comments or suggestions about this photo website should be directed to tracey. i am in no way affiliated with sloan. for official information, see their website over at sloanmusic.